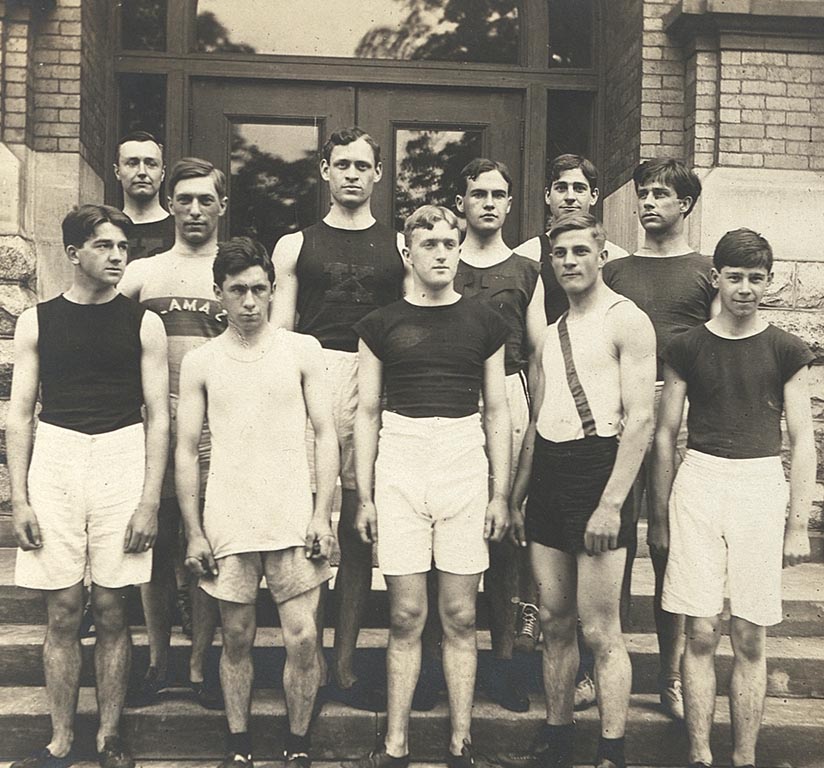 Athletics
Baseball, football, and tennis were M.I.A.A. sports at the college in 1904-05. There was also an annual Field Day contest which included track and field events. Pushball and tug-of-war contests between members of the freshmen and sophomore classes were also popular events. Women did not participate in these sporting events at this time although they would begin to compete in tennis around 1913.
Literary Societies
In the mid-19th century, literary societies were formed at the college primarily to promote to debate. Each society had its own room in a college building and many included a small library collection. According to the 1904-05 academic catalog:
"Open meetings, at which debates are held and literary programmes are given and to which the public is invited, are held from time to time. During the second term of each college year there are public debates on topics of current interest between debaters chosen from the men's literary societies."
The college had four literary societies altogether: three for men and one for women.
Other Organizations
The Y.M.C.A. and Y.W.C.A. (Christian associations for men and women), Brooks Classical Club (for those interested in classical studies), College Oratorical Association (debating), the Prohibition League, The Index student newspaper, and the men's Glee & Mandolin Club were all student organizations at the college. A women's glee club was formed in 1907.
Leisure Activities
Photo albums in the College Archives give a glimpse of leisure activities in the early 20th century. Picnics and trips to local lakes seemed to be popular. The women of Ladies' Hall often had a "spread" which was a small get together featuring food such as fudge.