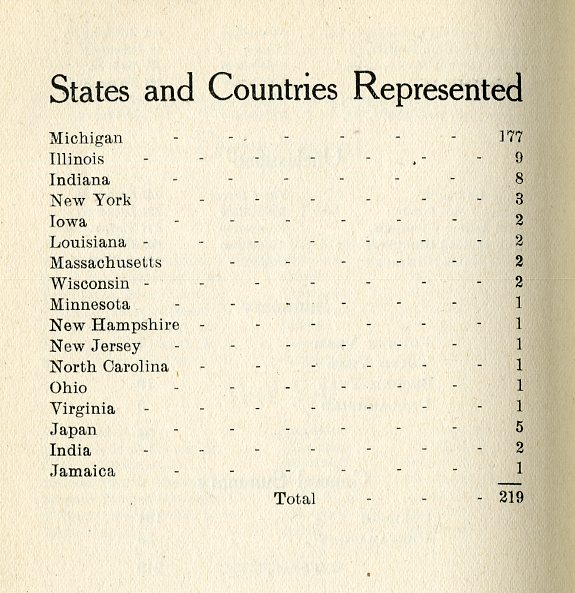 A total of 219 students attended Kalamazoo College in 1904-05. Of this total, 38 were students in the Preparatory Department (high school level) and 27 were unclassified students (including Nagai Kafu). The class sizes were as follows: Seniors – 22; Juniors – 34; Sophomores – 37; and Freshmen – 61.
The majority of the 219 students came from Michigan as can be seen in the table above. However, 5 students came from Japan. Nagai Kafu of Tokyo (student's record card shown above under the name Sockichi Nagai) and Katsuji Kato of Osaka were native born Japanese students. The other three were children of Baptist missionaries living abroad: Stella Fisher and her brother Royal lived in Tokyo while Ora Scott lived in Osaka. It is possible that these three recommended Kalamazoo College to Kafu and Kato. Below are profiles of Stella Fisher, Katsuji Kato, and a select few other students on campus during Nagai Kafu's enrollment.
Student Profiles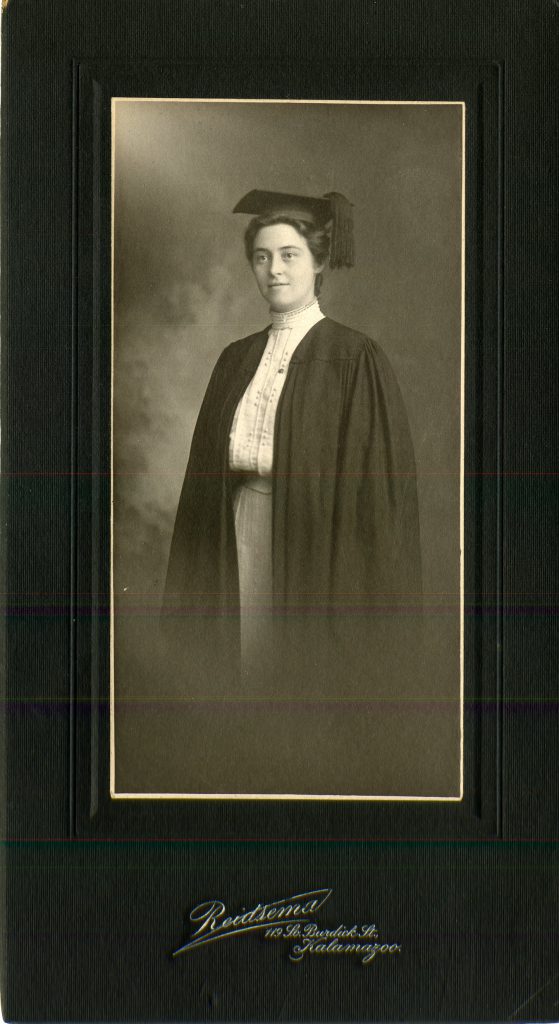 Stella Fisher '05
Stella Fisher graduated from Kalamazoo College in 1905 and received an honorary degree in 1933. As a student, Fisher was a member of the Eurodelphian literary society and maintained the group's library of books. After graduation it was reported in a 1906 issue of The Index that she was "teaching several hours a week in one of the government schools of Japan. Her subjects are English and public speaking." Professor Arnold Mulder wrote of her in the December 1948 alumni magazine:
" A noted writer and lecturer in her own right, Mrs. Burgess has been an instructor in literature at the National Normal University, China, and has long been interested in adult education – especially within industry. As a social worker, she served the state of Pennsylvania in several capacities. Most recently, her volunteer work has been in the civic struggle for better housing, in projects for interfaith and intercultural understanding – from which many of the verses in her latest book stemmed."
She published two books: A Peking Caravan and Toward the Summit. Read her story "Unchaperoned" in the February 1903 issue of The Index.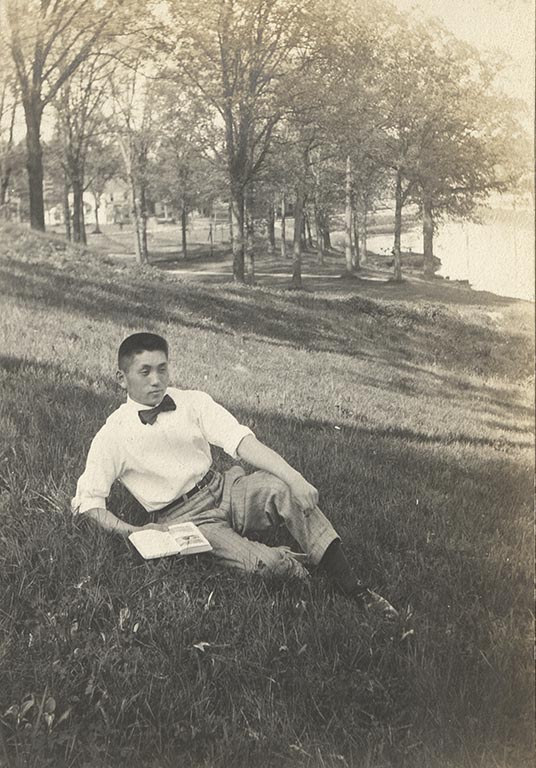 Katsuji Kato '09
In 1904, Katsuji Kato entered Kalamazoo College as a freshman. Kato was a member of the Century Forum literary society along with fellow Japanese classmate Sokichi Nagai and Royal Fisher, the son of a Baptist missionary who was born in Japan (and the brother of Stella Fisher mentioned above). The Index reported on a literary society event that the two participated in:
" A Japanese program was rendered on May fifth. The music consisting of a Japanese song by Mr. Kato and a bamboo flute solo by Mr. Nagai were exceedingly characteristic and such as one would hear in any Japanese city today."
As a student, Kato lived in the men's dormitory and the photo above shows him sitting on the hill below Upper Hall. This photo and several others of Kato are in the photo album of classmate Lynn Wright '09. Wright and Kato were both members of the Y.M.C.A. Read more about Kato and Nagai in this 2012 BeLight article.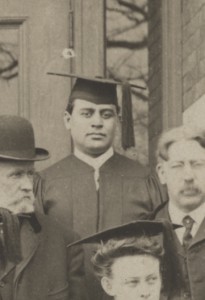 Charles Lewis Williams '07
A member of the sophomore class, Charles Lewis Williams was a black student from Orleans, VA who had graduated from the Preparatory Department of Virginia Union University. This university, like Kalamazoo College, was connected with the American Baptist Home Mission Society and it was founded after the Civil War to educated freed slaves.
Williams was a member of the Century Forum literary society along with his two Japanese classmates. He was also a skilled public speaker having won the college's Cooper Prize in Oratory in his junior year. He played on the football team all four years and was the captain of the team as a senior. Read more about Williams in this 2016 BeLight article.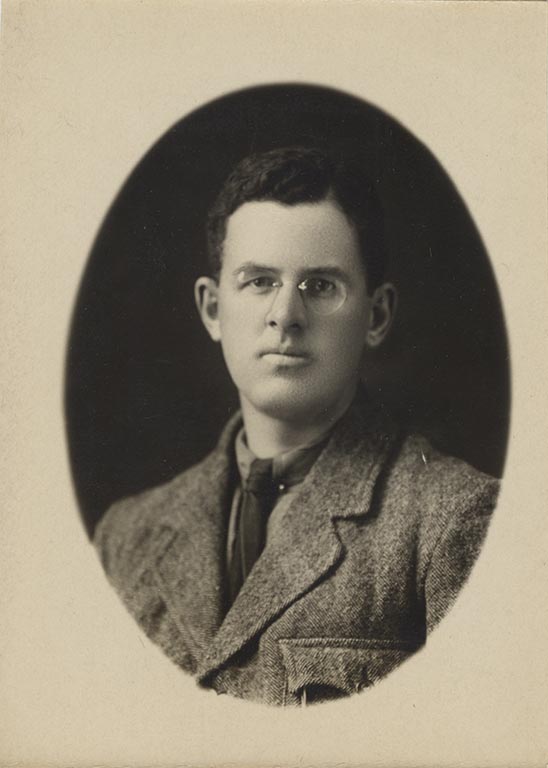 Maynard Owen Williams '10
The son of the Greek professor, George Abner Williams, was a senior in the Preparatory Department during the 1904-05 academic year. As a student he was a member of the Sherwood Rhetorical Society. In addition to this, he often wrote for The Index. A few years after graduating, he moved to Beirut to teach at the Protestant College there. He would go on to become a prolific travel writer and was the Chief Foreign Correspondent for the National Geographic. A collection of his articles, photographs, and diaries are held in the Kalamazoo College Archives.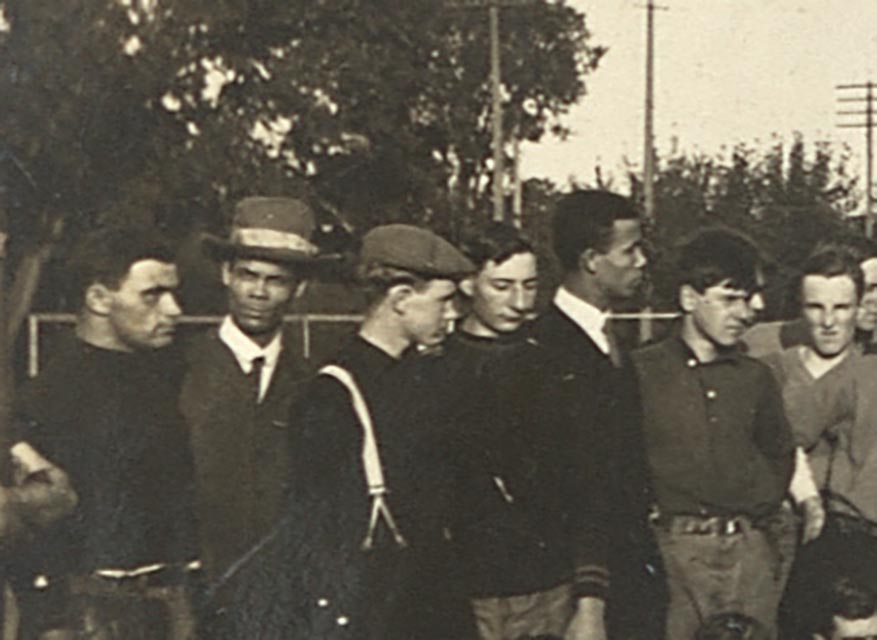 Solomon J. Williamson '11
Another member of the Preparatory Department in 1904-05, Solomon J. Williamson came from Jamaica. He would later be joined at the college by his brother John and both would graduate in 1911. The two are pictured above in a photo with men who were both participants and spectators in the 1907 pushball contest on campus. Solomon was a poet and writer, often publishing in The Index. He also was a member of the Sherwood Rhetorical Society and, like Kato, was a member of the Y.M.C.A. A collection on the two brothers is available on the college's digital archive.